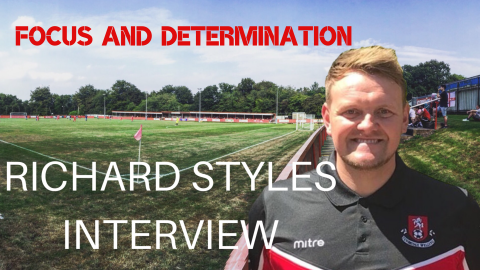 TWFC - A Last minute winner away against one of the title favourites in your first game in charge. Have you written many other Hollywood scripts?
RS - No (Laughs), no other scripts have been written yet up to now. It was an incredible game, that brought a fantastic performance from the players and I was over the moon for them and the fans to get such a result as well as obviously being really pleased with our start.
We were written off as soon as the fixtures were released, Sheppey are obviously tipped to go to challenge this year, so to get a result and performance like that as the underdog was superb. I always knew we were capable, but boys executed our game plan perfectly.
I'm really pleased with the levels of performance from the squad on Saturday as a group. I was really proud of the commitment levels and togetherness shown within the squad & staff before, during and after the game baring in mind the short amount of time we have all been together. You always want to get your first 3 points as early as you can, otherwise there's more pressure with each game to get your first win. We're Delighted to have the 3pts on the board after 1 game.
We had a game plan, some of this has been worked on in pre season and in the build up, but we had an idea how Sheppey would setup and how we could counteract that. The boys duly delivered and fully deserved their reward.
The support on Saturday was immense, it was my first real experience of the Wells fans at an away day and they were awesome, I could hear them before, during & obviously after the game and it means the world to myself and my staff. I know the players also feel the same and the fans can truly be our 12th man this season which sounds cliche but it's true. We have the best fans in Kent I have no doubt. I cannot wait to hear them at the Culverden next Saturday and get it rocking.
TWFC - Next up is the FA Cup. What are you expecting from Pagham? and how do you keep the players feet on the ground after last Saturday?
We're not expecting an easy game as both teams will want to go and win it for obvious reasons to progress and the financial gains. ( Saturday's winners will earn £2,250 )
We will have a game plan in place and will setup in a way that we feel gives us the best chance to win the game.
As a group we are in no way getting ahead of ourselves and know we need to keep our performance levels high in every game we play.
Planning for the next game started straight after the Sheppey game on Saturday night! We have no ego's in the changing room and a big motto of ours is to work hard in everything we do, so going into Saturday we're focused and determined to deliver what we are capable of as a team.
Richard Styles
Up The Royals