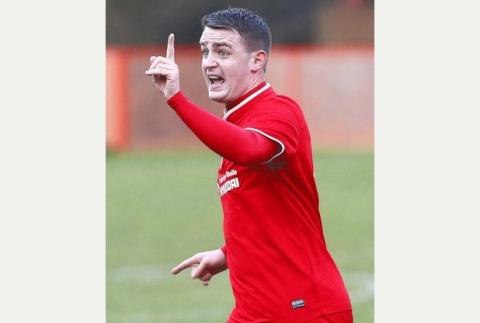 Tunbridge Wells first team manager Martin Larkin remains tight-lipped about who his squad includes for this coming season – at least for the next few days. One piece of news that many at Culverden will be pleased to hear is that Chris Seenan remains, waiting to show the club that there's more to come from him. That's pretty encouraging when you consider he hit 10 goals in 17 games for the club last year.
We caught up with Seenan to discuss the off-season so far; his expectations for the new season; and English World Cup failure through Scottish eyes…
TWFC: Thanks, Chris, for taking time out from your holiday to be interviewed… At the end of a season, every player on the books at The Wells becomes a free agent and is available for approaches from other clubs. Did you get any offers during the summer?
CS: The summer is always an important time for all footballers, regardless of whether they are professional or semi-pro. I'm sure most of the boys in our team had approaches, given the talent we have. I had a couple myself to move to the Ryman League, but to be honest I didn't have much interest.
TWFC: So what is it that's helped you make the decision to stay for Season 2014/15?
CS: Personally I'm really happy where I am - I'm a local boy now and have a great rapport with the fans. Moreover, I get on great with the gaffer and Brad [Sandeman]. I really feel that despite a good return in the goals column last season, the club haven't seen anywhere near the best of me, due to the amount of niggly injuries that I picked up. So I've worked really hard on my fitness during the off-season and plan to hit the ground running. I have two aims for the season, which is to finish top scorer and ensure that the team wins the league.
TWFC: Since joining the club just before Christmas, you've seen Culverden undergoing some significant changes as, off the field everything is now ready to enable Ryman League football if the team wins the league this year. Pressure, or incentive?
CS: There have been significant changes at the club in a really short space of time. This just highlights how much effort the club, the committee and all the fans put in behind scenes. What this does give the players is a platform to play and develop.
I don't think the club's putting us under any pressure to win the league and gain promotion, but I can guarantee you that the players will be setting themselves that target - so really we are putting ourselves under pressure, we can have no excuses come next May if we haven't succeeded.
TWFC: From what you know of who's staying, and who's joining, what kind of season are you anticipating?
CS: I'm afraid that I don't know too much with regards to the comings and goings at the moment. The gaffer has been in contact a fair bit during the summer, but any time I ask about the signings, he has told me I'll have to wait, as he's telling no one. All he has told me is that I won't be disappointed, and the quality we have coming in is of a very high standard.
I have every faith we will have a top, top team and will be more than capable of winning the league. For me nothing else is acceptable.
TWFC: You're obviously following the World Cup as you're in the club's prediction competition… As a Scot (and be kind, remembering Scotland didn't qualify at all), where did it all go wrong for England? Did Hodgson call it right dropping the old guard and letting the youngsters have a crack?
CS: [Laughs] I really need to watch what I say here! I get enough stick off a few of the supporters for my twitter comments (all good banter), so I'll be diplomatic…
I feel a bit sorry for the English players, as the press is desperate for them to fail and made their best player – Wayne Rooney – a scapegoat before a ball had even been kicked. With regards to Roy Hodgson, he pretty much did what the fans wanted him to do and played the youngsters, but I don't think he knew his best team and that caused problems.
I personally thought that they played well against the Italians, but they were poor against Uruguay and Costa Rica. Having John Terry and Ashley Cole there would have made a big difference. It will be interesting to see what team Hodgson plays going forward; maybe some of the players we think are great players aren't good enough on the world stage.
TWFC: Finally - and retrospectively, given this will be published after some of the last 16 matches have been played - you've been on a roll in the Prediction Competition and have surged into second. Who's your tip for the eventual winner at World Cup 2014?
CS: I know they haven't exactly set the heather on fire yet, but I just can't see past Brazil. Being the home nation is a massive plus, so I hope they go on and win it as the celebrations would be absolutely mental, and a joy to watch!
[Interview by Matt Harris]