Sevenoaks Town
Wednesday, August 20, 2014 - 19:45
SCEFL: Sevenoaks 2-1 The Wells
Match report reproduced with kind permission of Wink (thatbetheday.blogspot.com/)
The times are a-changing…
In recent years Tunbridge Wells have very much held the bragging rights from the A21 derby. Last season Sevenoaks Town shipped 10 goals during the course of the two League games and, whilst they surprisingly won by a single goal at Culverden in 2012, they conceded another six later in the season at Greatness Park.
New Sevenoaks manager Micky Collins, with the on-field experience of Ben Judge and Simon Osborne, has put together a side that looks to be far more competitive this term. Of course, it is widely rumoured that there is a healthy budget to push the club forward and there are also exciting long-term plans for Greatness Park.
The Wells, meanwhile, are a team that are struggling to find their feet following a big turnover in personnel over the close season. Despite this, both sides entered this game with 100% records in the league after a couple of games, but both suffered FA Cup defeats on Saturday.
As usual a large following of Wells' supporters were in evidence and their enthusiasm was seemingly undeterred by their cup exit following a heavy defeat at Holmesdale.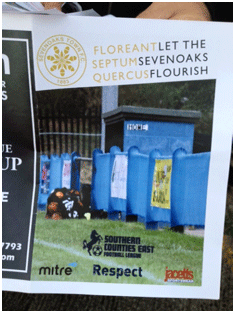 #zzzzz
The game itself was a scrappy affair that dramatically came to life in the time added on at the end of the match.
A firm pitch, coupled with far too much hit and hope from both sides, didn't lend itself to much of a spectacle in the opening stages until Sevenoaks managed to string together a move which ended with Andy Walker converting a cross at the near post to score the opener after 21 minutes.
Tunbridge Wells' tactic of the long ball towards the ever-willing Danny Powell and Brendan Cass failed to produce many opportunities in a disappointing first half with the best falling to Powell who saw his shot turned onto the post by Luke Roberts.
Joe Fuller was introduced after the break for Ian Parsons, but even that failed to beef up a midfield in which Jake Beecroft and Nick Barnes were strangely subdued.
The game appeared to be meandering its way to a single goal victory for Sevenoaks when, in the second minute of time added, Perry Spackman, pushed forward in search of an equaliser, struck a speculative shot from 20 yards that somehow found its way under the body of Roberts to level the score.
Steve Lawrence then had to be at his acrobatic best to turn over the bar a shot following a jinking run by Orlando Smith.
Sevenoaks were not to be denied, however, and two minutes later a cross from Keiron McCann found Miles Cornwell, whose header past Lawrence brought joyous approval and celebration, sliding to his knees, of Micky Collins.
So, for the first time since 2011, Tunbridge Wells head back down the A21 having suffered defeat, the times are, most certainly, a-changing. Early results suggest nobody is going to run away with this League and quite possibly the top teams are going to be beating each other, which opens the door to any of the contenders. The Wells have to improve on this performance to ensure they are one of the clubs knocking on that door
Thanks, Wink
The Wells (starting XI):
Lawrence, Bourne, Spackman, Davis, Bryant; Lacy, Barnes, Beecroft Lawson; Powell, Cass
The Wells goal scorers:
Super Perry Spackman
South Stand Choir attendance:
80+

South Stand Choir… we are the 12th man!