05/08/2014 The Wells v Hildenborough Friendly
Tuesday, August 5, 2014 - 19:45
Pre-season friendly: The Wells 6-2 Hildenborough Athletic
If I were a betting man…
There was more than a little speculation about how the new squad would get themselves up for this game. This was our final pre-season friendly, a game arranged against local opposition, a chance for Larks and Brad to fine tune their team selection for the new season. It was also an opportunity for the South Stand Choir to work on some new 'hymns' and try to remember the old ones.
It has been said that Tuesday games are our championship deciders, and whilst the stats don't completely support this theory, these evening fixtures did see us suffer 3 of 7 league defeats last season. One of these included a home defeat to Cray Valley PM; our first opponents as we kick off the new season on Saturday. Nevertheless there's something special about football under the floodlights and this was always going to be a good one.
As the game kicked off it was clear this was Hildenborough's cup final. It was also apparent that Saturday's performance on the Maidstone plastic had perhaps taken a little out of the players and probably much more from the fans. The Wells started slowly, a few misplaced passes, second to a couple of balls. Off the pitch it wasn't any better. In fact the first 'LDA' chant went up after 10 minutes and was promptly halted mid verse by an opening goal from Hildenborough. Here we go again…
On Saturday we only had to wait 3 minutes for an equaliser and thankfully it was the same tonight. I'm not sure what odds you'd get on that but they'd be nothing like those for Tom Bryant ending up with double figures at the end of the season. This was the left back's 3rd goal in two games and he is quickly establishing himself as a real threat every time he goes forward, and especially when Aaron Lacy has the ball.
Aaron recently joined The Wells and after hobbling off during his first pre-match warm up has gone on to play an integral part of what has been a successful few weeks. The ex-Faversham player is also a confident chap with a 'not so secret weapon' that will trouble a few defences this season. He is also full of banter and has quickly gained a personal fan club that will probably require a restraining order come October.
The Wells started to settle down and eventually took the lead with a smart finish from George 'Vienna', things were looking up. The ball was now being retained with more purpose and the Lacy 'exocet missile' was being used to good effect. Importantly the hoppy ales had started to flow, the banter steadily improved and despite being a Tuesday evening it was time to think about putting some money on red.
As the light started to dwindle Chairman Clive was persuaded to dig out a few coins and flick on the floodlights. This did wonders for Hildenborough who promptly managed to squeeze a couple of opportunistic balls into The Wells net. Thankfully the first effort was called offside and it was easy to see which bit had caught the lino's eye. It would appear that pre-season training hadn't been embraced by everyone at Hildenborough 'Athletic' and there's certainly a gap in the market for those Stanford 'shakes. With that we all headed into half time with the scores locked at 2-2, ready to sample the nutritious Culverden cuisine.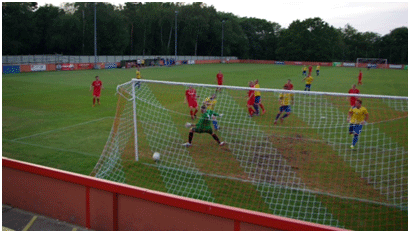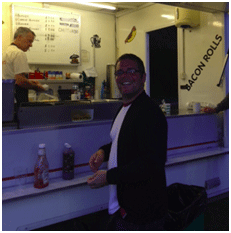 #offisdebyanavel #culverdencuisine
The second half saw The Wells enjoy far more possession and attacking the South Stand end we hoped they had left the best till last. Hildenborough were repeatedly forced to double up on the lively Ian Parsons, while on the left Lee Radford is edging back into form. There were also a few breaks in play as the pace got to Hildenborough and cramp set in, so it was lucky that on more than one occasion 'Dr Lacy' was able to lend a healing hand.
Now it's not the first time that we've seen Arron's hand in action; after the Maidstone game he was quick to shake on a few bets with the South Stand Choir about just how many Cass of the Culverden will bag this season. He's clearly confident in Brendon's ability and was proved right in the 81st minute as a C.o.t.C. shot flew high into the roof of the net. 3-2 and with it a warning this could be a very expensive season!
This was the goal that broke the Hildenborough resolve and as heads dropped The Wells stepped up a gear. Larks obviously knows that if you don't throw the dice you can never score six, so on came a few subs and before we knew it 3 more goals had hit the back of the net. It was great to see that with six different goal scorers we carry a threat across the pitch.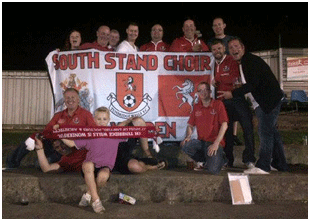 #whoforgottheirschooluniform
A final score of 6-2 was perhaps a little harsh on a spirited Hildenborough team who have the quality to enjoy a fine season. However it was more than enough to leave the South Stand Choir brimming with confidence as we head into the real thing on Saturday. It was a solid performance and if I were a betting man I think Tuesday evenings will be different this season, just don't tell Aaron Lacy!
The Wells (starting XI):
Lawrence, (Trialist), Benner, Wallis, Bryant; Barnes, Beecroft, Parsons, Lacy; Powell, Cass
The Wells goal scorers:
Bryant, Benner, Cass and the rest!
South Stand Choir attendance:
130 + the youth in the West Stand

South Stand Choir… we are the 12th man!