Maidstone FC away
Saturday, August 2, 2014 - 15:00
Pre-season friendly: Maidstone United 2-1 The Wells
The stuff that dreams are made of… well almost!
On paper this was just another pre-season friendly. In fact it was the 5th and penultimate game of a hectic month and a fixture that could provide a big clue about how the new season may unfold. Maidstone United are arguably the strongest opponents The Wells have faced since 'that game' in 2013. Their team play two leagues above in the Ryman Premier and in terms of stadium, facilities and budget are a club with a dream set up.
The Gallagher Stadium opened in 2012, complete with third generation artificial turf that has attained a FIFA two star grading, the highest possible rating for a 'plastic pitch'. Bathed in sunshine it really was an impressive site, pristinely laid with no need for draining and trimming… not much call for a 'forkers army' round these parts. Not that Chairman Clive was thinking about the Royal turf, as he sat in the imposing Main Stand, munching through prawn sandwiches.
The game started brightly, or we are told it did. It was very inconsiderate to kick off with the South Stand Choir queuing six deep and in need of refreshment in the Spitfire Lounge. Luckily royalty has its benefits and we were quickly refuelled by Garry and ready for business. We assumed Position X behind The Wells goal, braced for the inevitable onslaught, ready to support the team against a first choice Stones XI, prepared to be seen and heard in a stadium packed with 950+ home fans.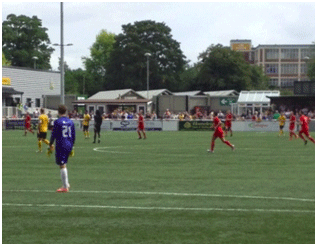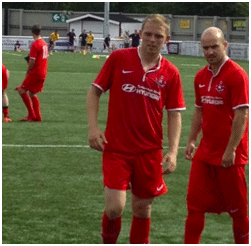 #noforkerslunch #standupstraightWizard
This was always going to be the toughest test yet for The Wells newly assembled squad and it had also been a while since we had faced a bigger opposition crowd. However, both on and off the pitch we more than held our own. In midfield The Wizard and The Beast have considerable experience of higher level football, while the central defence pairing of Nick and George is quickly coming together. Off the pitch the South Stand Choir were quickly establishing themselves with a full repertoire of songs and chants, including a badly rehearsed effort for George Benner, the latest Gracie masterpiece based on the lyrics of Ultravox's 'Vienna'.
Then Maidstone took the lead. A floating corner evaded The Wells defence and eventually hit an unmarked head before landing in the net. We waited… a packed stadium given the perfect opportunity to counter our relentless goading. Still we waited… and listened… carefully… but silence? Perhaps the game meant more to us and the opposition really did think they were in a 'testimonial'. If we could just get ourselves a chance we'd be right back in this.
Over the last four friendlies we've averaged 2 goals a game, but having watched The Wells outscore every team, bar champions Whyteleafe in the SCEFL last season, we are used to cheering goals. This season has seen a change to our strikers and this has probably caused the most amount of discussion amongst the Culverden faithful. The forwards have been rotated over the pre-season and today we had a front pairing of Brendon Cass and Danny Powell. Danny has played well in the games to date, scoring on his debut versus Rusthall and offering pace and mobility that will surely trouble many teams.
It was just three minutes after restarting the game that The Wells struck back. A clever pass from Aaron Lacy played Brendon in behind the Maidstone defence, he quickly controlled the ball and in a flash slotted past their advancing keeper. At least 50 people (including the bench and possibly a Stig) erupted with cheers and acclaim. Brendon has won numerous golden boot awards and championship medals playing at Ryman level and brings a really clinical look to The Wells front line. Forget Roy of the Rovers, arise Cass of the Culverden!
The game finished 1-1 at half time and provided us with the opportunity to sample more liquid refreshment and enjoy some banter with Tom, who is quite possibly the most personable football steward in the country. From a welcome introduction to the stadium and facilities, in the absence of a match day programme he proceeded to act as our own 'Maidstone Motty', a real credit to their club.
As the second half resumed Maidstone retained possession and continued to look for that elusive second goal; however The Wells are a different proposition this season and with experienced leaders across the pitch the score line was rarely troubled. Midway through the second half they introduced ex-Wells favourite Super Jack Harris who had been sat on the bench next to Josh 'he scored at…' Stanford. It was great to see them both and if Maidstone won't sing for them, we certainly showed who will.
Following more substitutions, including an injury forced keeper change for The Wells, the game eventually headed toward full time. With every passing minute the South Stand Choir were becoming louder and more confident, even beginning to dream we could see this through. This was also our pre-season warm up and we were buzzing. The team look really different and against strong opposition had more than held their own.
It wasn't until the 91st minute that another tame cross drifted over The Wells defence and Maidstone grabbed a late winner. Their fans briefly erupted and the relief on the faces of the Stones players was obvious. It's not the first time we've been beaten 2-1 in front of a packed stadium, but this felt really different. Larks and Brad have put together something special and having enjoyed some decent post match banter with the squad we go into our final pre-season game full of optimism for the new season.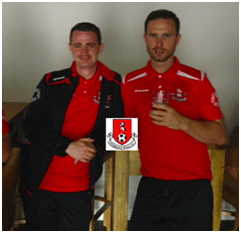 #newtrainingkit #straightoutofC&A
Anyway, what do I know? Come and see for yourself as we take on Hildenborough at The Den on Tuesday 5th August. Kick off at 19:45… TWFC membership forms always available!
The Wells (starting XI):
Lawrence, Bourne, Benner, Davis, Radford; Barnes, Beecroft, Parsons, Lacy; Powell, Cass
The Wells goal scorers:
Cass
South Stand Choir attendance:
At least 50+!

South Stand Choir… we are the 12th man!