2014-07-29 17:15:00
Tuesday, July 29, 2014 - 19:15
Pre-season friendly: Lydd Town 3-3 The Wells
South Stand Choir on tour!
It's not often you get the opportunity to spend a summer Tuesday evening in Lydd, apparently the most southerly village in Kent and the footballing hotbed of Romney Marsh. However, as the pre-season games come thick and fast this was an excellent opportunity for a South Stand Choir away day and a chance to cast an eye over our new squad.
Larks and his team have clearly been busy with just three familiar faces from last season's final starting XI. Steve 'no nonsense' Lawrence has made the keeper's jersey his own, last season's player of the year Joe 'every Royal where' Fuller was back in centre midfield; and it was a little strange to see The Wizard at right back. It was also evident that our popular 'poacher turned gamekeeper' kit man is a little behind on his pre-season work as the team lined up in Royal red shirts and shorts… with blue socks.
Jake's new found defensive responsibilities were the result of squad availability and provided an opportunity to see some new faces in midfield. Nick 'The Beast' Barnes was joined by Messer's Goldsmith and Wallis, the latter having been signed from Lydd and whose transfer agreement was one of the drivers for this game being arranged. Completing the back four were Tom Bryant, Nick Davis and George Benner; leading the frontline the industrious Danny Powell and Matt Parsons.
The Lindsey Field is a quirky little ground with a slightly undulating pitch, a small clubhouse stocking bottled hoppy ales and lagers, and weirdly no floodlights despite the ground sitting in the shadow of Dungeness nuclear power station! One member of the South Stand Choir quipped 'welcome to bandit country' however as there were no turnstiles or admission fees we were able to invest in a more strategic manner, topping up the cans that had been consumed during the long journey down.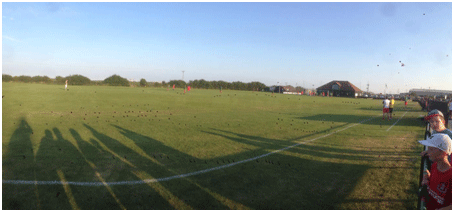 #banditcountry
The Wells started brightly, raking balls from Jake and Barnsey, with Danny and Matt full of running, always looking to get beyond the last defender. It was some clever movement down the right that resulted in a looping cross and a crisp, low finish from left back Tom Bryant, 1-0 to The Wells and the South Stand Choir's first rendition of 'Lawyers, Doctors & Architects'.
The Wells continued to press and eventually took a 2-0 lead through a curling free kick from The Wizard, up went his chant, quickly followed by some banter aimed at their irate and static keeper. The game then began to even itself out and with Lydd looking increasingly dangerous; and the pressure eventually paid off as they pulled a goal back to make it 2-1 as we all headed for our halftime refreshments.
During the interval we met some new faces; in particular it was great to meet George Benner's family who confirmed George had already experienced the South Stand Choir's enthusiasm for photos and even his autograph at the last home game. Imagine how he'll feel once he gets that song!
The second half started where we'd left off. Both teams were pushing forward at every opportunity and it was The Wells who soon extended their lead with a thunderous shot from Tom Bryant, the ball would probably have hit France if the net hadn't got in the way. Tom is another new face who looks like a really exciting addition to the squad, his second goal of the game proving that he's more than just a really good defender.
As the light began to fade the temperature on the pitch went the other way. Tackles flew in, words were exchanged and The Beast glared. With every game Barnsey is looking sharper and more commanding, he brings obvious authority and experience to the team and was given man of the match by the neutral Ashford United fan who was stood with us.
Lydd Town are a well drilled team playing in the Kent Invicta league and they continued to pressurise The Wells defence. Steve was forced to save and parry shots as the pressure grew and Lydd eventually managed to claw back two goals to bring the score level at 3-3. During this time The Wells had introduced our two subs, Callum on for Tom; and the newest member of The Wells coaching staff, Sinders, who had been on the receiving end of a rather enthusiastic rub down from our kit man and 'physio'.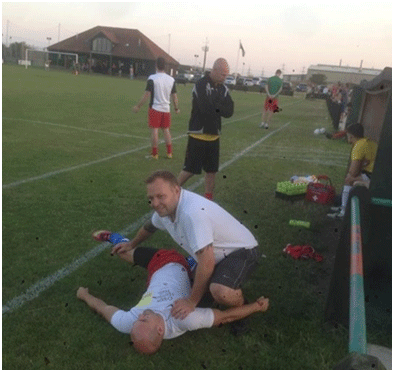 #sticktothedayjob # leaveit
Despite a couple of final attempts on each goal this lively game ended in a draw that was probably a fair result. The squad is playing a different style of football and the new players have certainly added something different to help move the club onwards. With more pre-season games to come the future looks really bright and the South Stand Choir will certainly have plenty to cheer! #COYW
The Wells (starting XI):
Lawrence, Beecroft, Benner, Davis, Bryant; Wallis, Fuller, Barnes, Goldsmith; Powell, Parsons
Goal scorers:
Beecroft & Bryant (2)
South Stand Choir attendance:
At least 20-30!