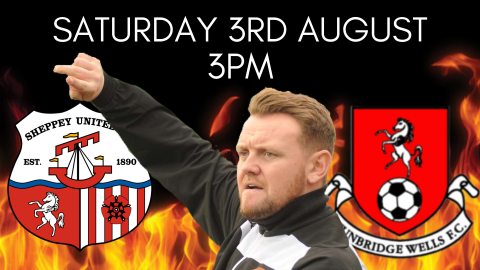 TWFC - With pre season now completed, how happy are you with how the preparations have gone going into the new season?
RS - Overall I am happy with how pre season has gone, I feel the group has come a long way over the past 5 weeks. Bringing a new staff, team & players together isn't easy and takes time to adjust, but the boys have been superb, doing everything asked of them, fully buying into my methods and what we're about. The group are fit and have worked hard which was my aim, but we have also been able to work on a style of play and practice it. The pre season games have gone well and players have had minutes without injuries so I'm happy.
TWFC - Looking ahead to Saturday, Have you decided on your starting XI?
RS - I am 95% sure of my starting lineup for Saturday at the moment and have a really good idea with what I'm going with and how we'll setup.
All the squad is fully fit and I am happy with the size of squad I have.
TWFC - How important is it to you to get a positive result on Saturday?
RS - It's always important to start well, a positive result would be great and would really get the ball rolling for the start of the season for all of us by putting points on the board, especially going into the game as the underdog. We will do all we can to get a result and will setup to do so. At the same time it's a marathon not a sprint and the next 37 league games after are all equally as important.
TWFC - What are you expecting from Sheppey Utd?
RS - It's never an easy game vs Sheppey Utd and they have new players who'll want to impress etc so we're expecting a tough fixture that we'll have to be good enough to match.
TWFC - And finally, with a large and noisy away support expected on Saturday. How big an impact can the clubs travelling supporters make on Saturday?
RS - The clubs travelling supporters are worth their weight in gold and will be a real positive going into Saturday as well as every game we play this season. I've experienced first hand being part of a team without a following or fan base, and as a player it makes a huge difference as the fans are able to really lift the players individually and the team collectively. The more the merrier & the louder the better in my opinion and I can't wait to hear them singing and cheering on Saturday. I want the fans to feel really close to all playing and management staff this season as we're all in this together, what better way than to travel to sheppey to start it off!!!
Up The Royals