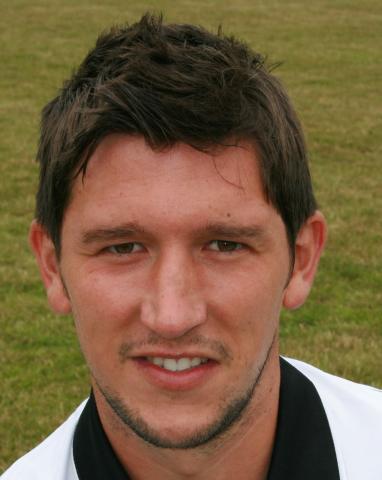 With the first three summer signings revealed, it's an exciting prospect having Brendon Cass added to the core of a side that produced 90 league goals last season. Cass has been a goal-scoring hit at all of his previous clubs and has winners medals to show for his exploits, yet as www.tunbridgewellsfc.com found out in an interview with the player - he has the success of the team at heart for this coming season, ultimately...
TWFC: Firstly, welcome to Culverden! Tell us something that few people know about Brendon Cass…
BC: I'm a PE teacher at a secondary school in Medway. I'm a big Chelsea fan, I'm married with two children - Freya and Kyran - and my name is spelt with an 'O' - Brendon! [Editor's note: we've quickly corrected all web references having so far got it wrong!]
TWFC: It's well known that you score goals wherever you go. Can you briefly summarise your career to date?
BC: I was released from Gillingham at 17, I then went to Tonbridge Angels where I stayed for around 4 ½ years. From there I briefly joined Chatham Town, but during the season transferred to Dartford, where we won the Ryman League North - and I won the Ryman North Golden Boot Award. After four years there, I re-joined Chatham, only to leave again for Folkestone Invicta half way through the season and ended up winning promotion there through the Ryman League South play-offs! For the following three years I played for Hythe Town, where I won the Kent League and Golden Boot Award and reached the first round proper of the FA Cup only to lose at Hereford United [then a League Two side]. In my second season at Hythe, we won the Kent Senior Cup, beating Dartford 1-0 in the final and reached the Ryman South play-offs the following year, losing to Faversham Town. Last year, I played for Faversham in the Ryman South... Sorry that wasn't very brief was it!
TWFC: So what's been the one high point and the low point of your career so far in football?
BC: I've been fortunate to have a few highs. Apart from the promotions and cup runs, I was able to play the first game at Dartford's then new Princes Park Stadium and score the first ever goal there in front of over 4,000 fans. My lowest point came early in my career at Tonbridge Angels when I had a serious leg break.
TWFC: What persuaded you the time was right to join The Wells, and what are you expecting from yourself and your new teammates this season?
BC: After speaking with Martin and 'Sinds', they persuaded me that the club wanted promotion this year, and I was impressed with both when talking about how the team play, the club, the fans and their expectations for the season. We obviously all want promotion this year but that's what most clubs set out to do! I'm hoping to get on the score sheet regularly, but most importantly help the team have a successful season.
TWFC: As you've said, you've been brought in to help The Wells have a serious go at the SCEFL title. From the pre-season training so far, what have you made of the set-up here?
BC: It's early days, I don't think we can judge until a few games into the season, but training sessions have been good and we have a few friendlies lined up to get fitter and sharper, which is what these games are all about.
TWFC: You've actually won the league at Culverden before – with Hythe, on goal difference over Herne Bay. What do you remember of that game, and importantly, what did it take from you as an individual, and the team as a whole to crack that nut?
BC: I remember being 2-0 down at half-time and getting the biggest team talk! We played better in the 2nd half and all I can remember is hitting a volley low and hard at the end of the game. Everyone, including myself thought the keeper [Czanner] had saved it, but luckily for us he turned it in himself - I still owe him a beer for that - to get a draw and win the league. It was a tense situation with Herne Bay that year, I would much rather win it more comfortably next time please! We didn't play much football at Hythe, but we had a really good togetherness and didn't know when we were beaten.
TWFC: In a parallel universe, Brendon Cass is in the England World Cup starting line-up to face Uruguay and Costa Rica in Brazil. Who does he replace, and playing to his strengths, what does he do differently to ensure more than one of the eleven shots on target from these two games end up in the back of the net?
BC: Mmmm! Maybe Sturridge, Rooney and Barkley can play just behind me... In all fairness, though, I don't think we did too much wrong. We didn't miss many clear cut chances and I think these young players - given time - will be better for it in two or four years to come… Or am I just another optimistic England fan?!
(Interview by Matt Harris)