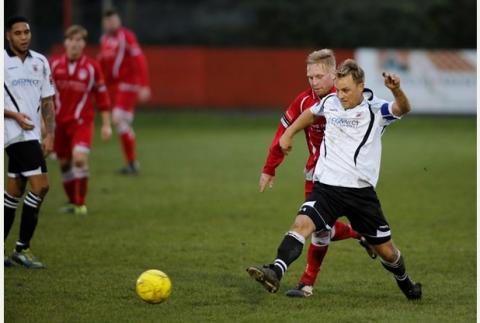 Martin Larkin outlined earlier in the summer that he wanted to add some leadership to the mix to support Jason Bourne and Joe Fuller. It would appear he's succeeded as today he discusses the signings he's made to support a serious title assault for 20014/15 season with www.tunbridgewellsfc.com.
Aaron Lacy – Defender/Midfielder
Adding strength and experience, versatile full-back Aaron Lacy can also play in midfield, and joins from Ryman League outfit Faversham Town. The 33-year-old lists Maidstone United, Margate and Hythe Town - where he won a Kent Senior Cup medal - as former clubs, and is noted as a long-throw specialist.
"Adding Aaron was a big signing for us," Larkin explains. "He brings a wealth of talent and leadership, and importantly the know-how that at times we may have been missing in the big games last year. He has settled in well to training and we are excited about how he can influence us during the season."
Nick Barnes - Midfielder
Bringing competition to the central midfield positions is Nick Barnes who joins from Erith & Belvedere. Again, Barnes has significant experience playing at a higher level, including time at Hastings United, Tonbridge Angels, Maidstone United, Dartford and Margate, among others. He also knows the Kent League having won it with Hythe Town, and is a leader with a winning mentality.
"Signing Barnsey came about quite late in the summer, and we were delighted when he agreed to join as a number of teams were chasing him," Larkin reveals. "He will add power, ability and experience to the midfield and will bring the best out of Joe Fuller and Jake Beecroft. He's another one that will add a serious title-winning voice to the changing room."
Brendon Cass - Forward
Competing to star up front is Brendon Cass who joins from Ryman League Faversham Town, and has scored goals wherever he's been, including Gillingham, Tonbridge Angels, Chatham, Dartford, Folkestone Invicta and Hythe Town with whom he won the Kent League title.
"Goals, Goals and more Goals from Cass," enthused Larkin. "We know what he can do, and we know if we supply him he will put the ball in the net. The fact we scored 90 league goals last year and the top striker only got 10 shows that by adding Cass to the mix we could really explode those numbers again. We're really expecting big things in the big games from Cass and I am sure he will become an instant favourite behind the goal with the fans!"
A positive start, then, as the squad shapes up for 2014/15. We'll bring you details of more signings and opinion as and when they become official at www.tunbridgewellsfc.com.