16/08/14 Holmesdale v The Wells
Saturday, August 16, 2014 - 15:00
FA Cup: Holmesdale 4-1 The Wells
A touch of class…
It's probably fair to say The Wells never really expected to win the FA Cup in May 2015; however we went into this extra-preliminary round game full of optimism having comfortably won our first two SCEFL games. The oldest association football competition in the world comes with decent financial rewards and with today's winner set to bank £1,500 (plus the bragging rights for future league meetings) the game required a proper level of away support.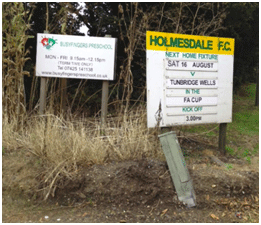 #abandonhopeallyewhoenterhere
This was also the first royal coach of the season, and with it an opportunity for the young, old, sober and JP to travel in relative luxury. These jolly outings are always amusing events, characterised by a healthy supply of banter, hoppy ale, treats and Chairman Clive's latest money making scam. On this occasion the latter took the form of a simple raffle which the packed coach were persuaded to join… and that he promptly won! However, he's not known as Mao the Merciful for nothing and quickly encouraged a redraw (note to self, keep an eye on him this season!).
On arrival at Oakley Road (stables) we were greeted by a jovial gateman, a collection of porter cabins and pubhouse which backed onto a spacious grassy area. We quickly established that it wasn't just their badly kept hoppy ale that was likely to cause issue. Holmesdale clearly have goals in their team and having managed to score 8 times in their previous home game it would be important for The Wells to maintain their strong defensive start to the season. It was therefore not the best day to find that 3/4 of the defence that had already kept two clean sheets were unavailable due to injury and illness.
The game started brightly with the South Stand Choir in full voice, with flags, songs and banter the opposition could only dream about. It was also great to see Super Perry Spackman back in the team having served his suspension. Over the last few games we have only seen fleeting appearances from Perry as he pops up to celebrate victories in the style of a certain Chelski centre back! Nevertheless this was an untried formation and we braced ourselves for the home side's self-styled 'art of football'.
Now, just one of the many wonderful TWFC membership benefits is a discount at a local barber, and it was quickly apparent that we should have bought along some forms to sign up the Holmesdale Alice Bands. However what their forwards lack in proper haircuts they more than made up for in desire and skill and they managed to get their noses in front following a corner and defensive error that had left their captain unmarked in The Wells' six yard box.
This effort was quickly followed by two impressive 20 yard strikes that looped over Steve Lawrence and we were 3-0 down inside 35 minutes. Whilst this wasn't a pleasant place to be, one of the hallmarks of the Royal and Loyal is our unwavering support for the team. We upped the singing and chanting and were eventually rewarded with a goal just before halftime. Predictably it was Brendon Cass with his 5th goal of the campaign.
#imagineifwehadwon
The second half saw the introduction of Chris Seenan for his first appearance of the season, and with it one of the South Stand Choir's favourite songs. Unfortunately on this occasion we were left 'singing when not winning' as Holmesdale's 4th goal flew in from a direct free kick we were saved from the FA Cup final ticket lottery for another year.
Did 4-1 flatter the home side? Would the 'usual' defence have prevented the goals? Should they really have called that foul ale 'Kent Best'? There was only one more certainty, and that was the ref's decision to brandish a second yellow card to Perry. Whilst the decision looked harsh it did ensure he was showered and changed by the time the final whistle blew. All that remained was for South Stand Choir to earn more plaudits as we offered our acknowledgement for both teams as they left the pitch.

#touchofclass
It will be a long season and there is no better way to bounce back from defeat than the A21 derby. Roll on Wednesday evening and another away day trip to Sevenoaks. We'll go loud and proud…
The Wells (starting XI):
Lawrence, Bourne, Spackman, Lacy, Radford; Barnes, Beecroft, Parsons, Lawson; Powell, Cass
The Wells goal scorers:
Cass of the Culverden
South Stand Choir attendance:
One royal coach and numerous cars

South Stand Choir… we are the 12th man!